The living room is one of the most important rooms in the family and family members are spending most of their non sleeping hours at home in the living room , watching television, listening to music, just interacting with each other, reading newspapers and magazines and to discuss the different matters which are important to them. It is also the room where they entertain guests and visitors to the home, like friends and relatives who may be visiting for a party or other reason. Hence most home owners will try to ensure that the living room is well decorated and has the latest entertainment facilities, so that they can relax after a tiring day at work. A custom made media wall is an attractive and inexpensive way to make the living room of any house in Arizona look unique and attractive.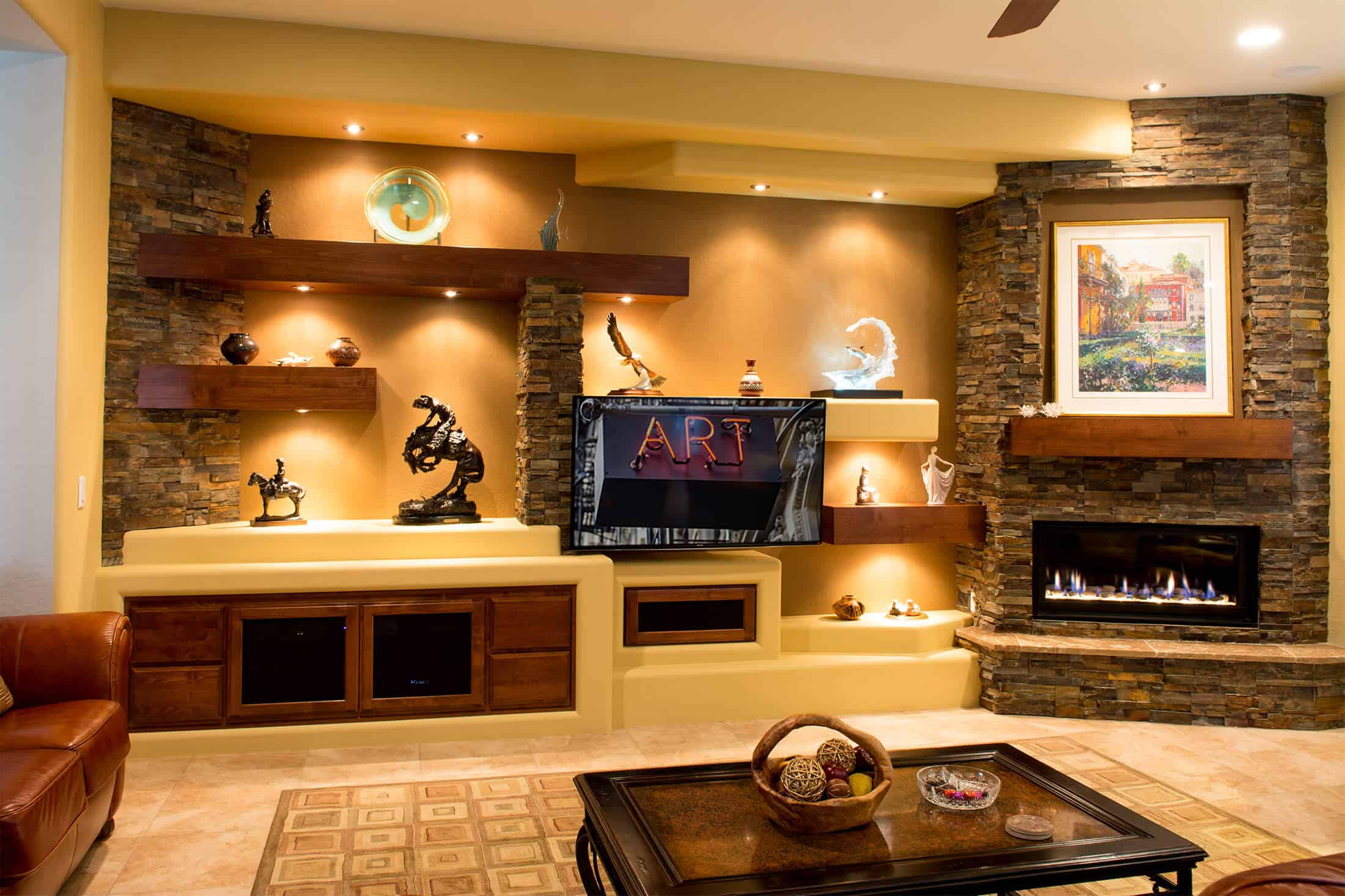 Since the members of a family are congregating in the living room, the systems and appliances for entertainment like television, home theater, music systems are usually kept in the room, so that everyone can enjoy together without intruding on each other. While earlier television and home theater were kept in cupboards and shelves, these are fairly bulky, inexpensive and inconvenient to move or modify, There are only a limited number of models of furniture available for keeping the television and entertainment systems in the living room , so increasingly home owners are opting for media walls to house their home entertainment systems and to lend a unique look to their homes.
With advances in technology, televisions and home entertainment systems are no longer the bulky heavy units with CRT tubes which require a lot of space and generate heat. LED TVs and similar compact systems are taking up relatively less space and do not generate much heat as they do not consume much power. So it is now possible to house the home entertainment systems housed in custom made media walls which are compact and do not take up much space in the living room. As a result it is possible to ensure that the living room is not cluttered and there is plenty of free space in the room for moving about, playing games or any other activity. These media walls can also be moved from one place to another without modifying the structure of the room.
Earlier all structures in a house were made of concrete and plaster, which cannot be easily modified or changed without expensive construction equipment, generating dust, and creating mess. However increasingly drywalls are being used for making the internal structure of homes, replacing the furniture to some extent, as they are relatively inexpensive and easy to install. One of the most popular applications of drywalls is to make custom media wall Gilbert AZ for the living room of the house, for housing the television and home entertainment system. There are several firms which are making a customized media wall for their clients after considering the client requirement and design of the house.
Before ordering a custom media wall, the home owner should be clear about the specifications of the systems which are required, the colour and size of the media wall which is required, and any specific features. They can request a quote from multiple suppliers, to compare their prices, terms and conditions and delivery time. Thunderbird Custom Design is one of the most reputed custom media wall Gilbert AZ suppliers has a reputation for supplying unique and well designed media walls which are not only functional, they also add to the aesthetics and value of the room. Depending on the interests of the home owner, the media wall may have a customized design, with a particular image or painting or theme to blend with the general theme of the living room.
The custom media wall suppliers team have several years of experience in designing and supplying custom made media walls,dry walls and custom entertainment centers having personally worked at construction sites to supply dry walls before hiring experienced and skilled workers to do the work. Hence they are able to understand their clients requirement well and provide attractive customized solutions that are required at a low cost . They take great pride in the quality of the media walls that they have supplied to their customers and can provide references of various media walls, dry walls they have provided. The testimonials of their satisfied customers are listed on their websites and anyone interested in using the services, can contact for more details of these customers.
While the external walls of a home are subjected to harsh environmental conditions, the interiors of a home do not require so much protection and so dry walls can be used, and these walls are available in a variety of textures and finishes, with wooden shelves incorporated as required by the home owner. The dry wall can be manufactured at the suppliers place and installed in the home quickly without making many changes to the existing concrete structure . So any family interested in a custom media wall Gilbert AZ are advised to contact Thunderbird Custom Design to get a free quote for their customized media wall or entertainment center.